Bangkok – "Laying there in the cold and dark at the age of nine, I didn't know why my mum had to suffer this violence," says Rachana Sunar, recalling a fearful childhood in Nepal's far west, in a home where her father regularly beat her mother and discounted his six daughters. 
"It was after one especially brutal event, when I fled into the dark outside our home for a whole night, that I realized I needed to change my father's mindset towards women and girls, and make money myself in the future."
Raised in a violent home, and narrowly escaping being married off to a man she had never met at just 15, Sunar now dedicates herself to fighting for girls' rights and against child marriage in Nepal.
"Education is the future. Helping girls raise their voice to say NO when they going to be married off is really important. Without education a girl can't get a job. Without a job she becomes dependent - and then maybe a victim of violence. All these issues are connected," she says. 
Sunar was one of three leading youth activists from Nepal, Indonesia and Thailand who took part in an impassioned and inspiring discussion on how best to empower teenage girls in Asia and the Pacific, to mark World Population Day 2016, whose theme was "Investing in Teenage Girls."
Hosted by the United Nations Population Fund (UNFPA), the event tackled questions surrounding how best to empower, support and invest in the more than 325 million girls aged 10-19 in Asia and the Pacific, as nations and UN partners aspire to fulfill the 2030 Agenda for Sustainable Development – a vision of a world that ensures dignity, equality and rights for all, leaving no one behind.
'Real men'
"In Asia, we need to challenge traditional cultural and religious attitudes around sex education and talking openly about reproductive health and rights," says Muhammad "Echa" Reysa from Makassar, Indonesia, who works with civil society groups, including faith-based organizations, to educate men and boys on gender equality in an increasingly conservative society.
"The idea of being a 'real man' shouldn't mean you beat, harass and abuse women. Who made up these rules? To men and boys, I say - if you ever do violence against women, imagine if it was your mother or your sister."
Reysa recounted how he himself had to undergo this realization and absorb these lessons before he could transmit them to his peers.  His empathy for girls' and women's rights have had a significant impact in his community and social circles. Once, a young girl approached him for advice on how to handle her pregnancy – trusting him more than other girls or women given his sensitivity and knowledge of the issues and his ability to maintain her confidentiality.
According to Rasa Sekulovic, Plan International Asia's Regional Head of Child Protection; "violence against women is an epidemic. 35.6% of girls worldwide have experienced sexual violence."
"It's vital we confront negative norms, attitudes and practices that perpetuate damaging acts for girls," he adds. "The Sustainable Development Agenda ensures that girls' and women's rights cut across the 17 Sustainable Development Goals in various ways, and all of us working on these issues need to adopt an integrated approach in tackling these challenges."
Breaking barriers
Nada Waeyusoh, the first ever female president of the Children and Youth Council of Bangkok, has been working, ever since high school, to help raise awareness on the complexities surrounding teenage pregnancy in Thailand, where over one million babies were born to teen mothers in the last 15 years – one of the highest rates in the world. 
She says that despite a comprehensive new law to tackle teenage pregnancy taking effect shortly, breaking down socio-cultural barriers to education and jobs for teen mothers, and tackling the damaging stigma that targets them, is vital going forward -- alongside promoting comprehensive sexuality education, creating a safe space for young people to talk openly about sex, and allowing youth below 18 to access contraception and other sexual and reproductive health services. 
"Too often, girls alone are forced to take responsibility for teenage pregnancy," Waeyusoh says. "If teenage mothers don't feel like they have the right to go back to school, despite the law, they won't try. It's good that the government involved young persons such as myself in helping draft the law, because we know the realities. But we need a significant shift of mindsets across society for the law to work."
"Governments must invest in girls not just to power the economy, but because it is simply the right thing to do. Ethical societies are successful soceities, and we must make a collective effort to remove barriers and challenges that prevent girls' aspirations from becoming a reality. Millions of girls and women will be left behind if we don't move from rhetoric to create and sustain opportunities for them to shape their own futures."
The UNFPA Asia-Pacific Regional Office works with 23 country and sub-regional offices, stretching from Iran through South and South-east Asia to the Pacific, to help achieve a world where every pregnancy is wanted, every childbirth is safe, and every young person's potential is fulfilled.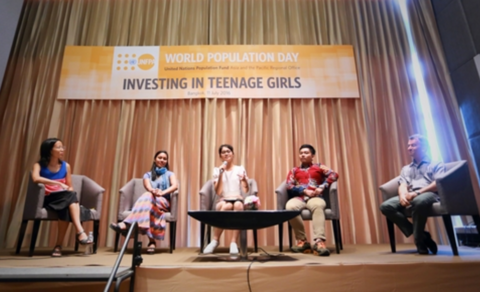 Panellists at the the World Population Day debate in Bangkok. Photo: UNFPA Asia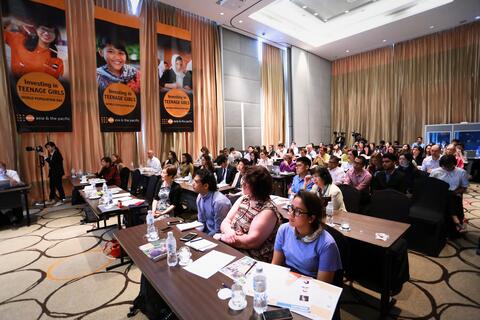 The audience at the World Population Day debate. Photo: UNFPA Asia