I. Background and justification
The most essential reproductive health services are contraceptives, pregnancy testing, safe abortion services, management of reproductive tract infections, and maternal care. However, several barriers continue to prevent women and men from accessing reproductive health (RH) services of their choice, which in turn results in unintended pregnancies with its consequences, and consequences of untreated reproductive tract infections (RTIs).
Studies have shown that a large proportion of people do not seek services from public sector for their RH needs, except for sterilization and maternal care services. This is particularly true for services for reversible methods of contraception, pregnancy testing, safe abortion, and RTIs.  Majority of these services are sought from private sector (for-profit or non-profit) or from pharmacies (chemist shops). According to NFHS-3, nearly 80% users of oral pills and condoms sought services from private sources (private hospitals, clinics and pharmacies). Similarly, studies show that most important source of abortion services is from private sector, which is linked to lack of choice of abortion method provided by public sector and insistence on having sterilization or IUD with abortion services at some facilities.
In order to improve access to family planning and RH services, models of public private partnership, including involving pharmacies in provision of RH information and commodities have been identified as promising high impact practice
Pharmacies / small chemist shops are often the first line of health care contact in those areas that have few public or private clinics, poorly stocked and poorly staffed clinics. Drug shops are legally allowed to sell prescription drugs (upon production of prescription) as well as give over the counter medicines (such as oral pills, condoms, emergency contraceptives, pregnancy test kits, etc.).
Evidence shows that with appropriate training and support, pharmacy staff can facilitate the use of modern contraception and reproductive health commodities. As an example, with pharmacies supplying emergency contraceptives over the counter, women in urban areas can access ECPs within 24 hours of unprotected intercourse. However, as per NFHS 3, less than 1% percent are aware of ECP. Similarly, it has been found that majority of women seek abortion services from private sector, and often from unregistered practitioners, or by picking up abortion-inducing drugs from chemists even after the safe period. As for detection and management of reproductive tract infections, people – especially adolescents and women – don't seek medical help due to lack of confidentiality and judgemental attitudes of health service providers.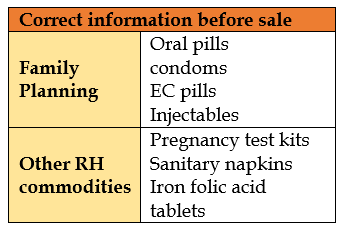 UNFPA proposes introducing a process to train and support pharmacy staff in providing a wide range of reproductive health commodities, including family planning methods and information – Over the counter.
II. Objectives
The overall goal of the project is to increase access to contraceptive methods and information in rural and urban populations, focusing on young people
1.      To train and support pharmacy staff to provide a wider variety of family planning and reproductive health products
2.      To enable pharmacy staff to provide more accurate information for improving safe practices and reducing harm, and improve access of contraception for young people.  
III. Geographic coverage and outreach                        
Select urban and rural areas in states of:
·  Rajasthan, Odisha, Madhya Pradesh
·  Uttar Pradesh, Maharashtra , Bihar
Districts: One district in each state -- priority will be given to urban and interior rural areas, where access of formal health care system is low. In large districts, 2-3 blocks might be selected.  
IV.             Key strategies and activities          
a.      Baseline assessment of knowledge and practices of pharmacists with regards to selected reproductive health products: a survey of pharmacists on sample basis to assess their knowledge and practices on stocking,  dispensing  and selling contraceptives and , RH products (e.g. pregnancy test kits), messages given and attitudes (biases about young people).
b.      Develop guidelines for information and service delivery: Guidelines will be developed  that can be used by pharmacies, so that pharmacy staff are aware of correct information on RH commodities, stock necessary commodities, don't stock ineffective spurious contraceptives and know where to refer  
c.       Create a quality assurance and oversight system – Minimum quality standards (for training, drug quality, stock control, record keeping, hygiene, etc.) will be developed and a system of periodic reviews.
d.      Motivate pharmacy owners to join the project: Pharmacy owners will be motivated to stock and sell a range of modern contraceptives and RH commodities, with moderate profit margins. It is known that practices of pharmacists are determined by profit margins, however, they will be motivated to offer a price that is affordable to clients yet offer sufficient profit to pharmacy owner.
e.       Training of pharmacy staff: Because pharmacy staff often work long hours, training courses will be as brief as possible, and at convenient hours and locations.  Training courses will be high quality interactive training. Since each registered pharmacy owner generally manages 2-3 pharmacy shops, with the help of untrained staff, training will also cover uncertified and untrained staff, preferably through separate training. Minimum 1-2 training programmes will be needed in each district.
f.        Refresher cum review meetings after a year of initial training might be held (3-4 times a year in each district), either at block level, or using interactive videos at the point of sale. Pharmacies who join the project might be branded / certified, if feasible.
g.      Create point of sale information and promotional materials:  In order to improve use of RH commodities and quality of services, promotional materials such as display materials, client pamphlets, etc. will be developed.
h.      Monitor the quality: Based on the QA system developed, quality of products, pricing and information etc. will be periodically monitored (3-4 times a year). This will help to ensure that pharmacists are providing correct products and information with correct pricing. Monitoring will be based on number of commodities sold, pricing, random knowledge assessments of staff, and (if possible) through mystery clients.
i.        Advocacy with pharmacy associations:  Consultations will be done with pharmacy associations at state and district levels, to ensure that they support the intervention. Efforts will also be made that these initiatives receive focus during pre-service training of bachelors and masters students of pharmacy, and that stocking & sales of ineffective RH products is reduced.
j.        An endline assessment will be done to measure the change / improvement in knowledge and practices of pharmacists. Further, sales data on RH commodities from selected areas will be captured.
The above is a scope of suggested activities based on our review of experiences. However, agencies are welcome to make changes and suggest innovative activities based on their own experiences and available evidence.
V. Key outcome indicators      
· Knowledge of pharmacists about specific RH products
· Types of contraceptive methods and RH products offered
· Information material & messages given by pharmacy workers on contraceptives
· Number of contraceptives / RH commodities sold
· Pricing of RH commodities
VI. Expected long term impact:
a. Contraceptive prevalence in 20-29 year age group
b. Contraceptive prevalence among women with zero parity and those with one child
c. Improved knowledge of intended users for 4 reversible contraceptive methods (pills, condoms, ECs, injectables)
d. Sales of contraceptives and other RH products
VII. Duration - Three years  (Apr 2018 to Mar 2021)
Project budget is to submitted for following periods: Apr – Dec 2018, Jan -Dec 2019, Jan-Dec 2020, Jan-Mar 2021