MADHYA PRADESH/RAJASTHAN, India – "I was 16 and never missed a day at school," recalled Komal, who was forced to drop out of school and become a child bride. "I had to leave it all as my parents had bartered me for a girl my elder brother was to marry." 
Such marriages, in which a girl is married off in exchange for a bride for her male relative, are called 'attasatta' in Komal's community in Rajasthan, India. Komal feared the marriage would derail her plans: she had always dreamed of going to university and getting a good job. 
"I was sad and angry. I pleaded with my mother, but my father had made up his mind," she said. 
"My only hope was that my husband would let me complete my studies. But he got me pregnant even before I turned 17. Since then, I have hardly ever been allowed to step out of the house." Komal struggles with married life. She loves her daughter, but she is blamed for not having a son.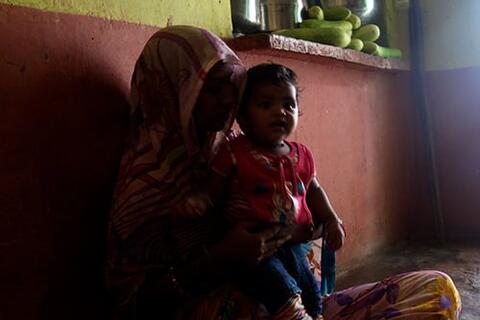 "Sometimes, when the others are not at home, I read my old school books and hold my baby and cry," she said.
Long-lasting consequences
Child marriage is a human rights violation, yet it remains widespread in much of the world. The consequences of this practice – including deepening poverty and health risks associated with adolescent pregnancy – often extend into the next generation. 
Bina Bai*, in Madhya Pradesh State, was married off at age 14. Her husband was only 15 years old. UNFPA, together with community health workers, reach out to the children's parents to delay the marriage, but their efforts were unsuccessful. 
The team then counselled the newlyweds on family planning options, which would help Bina avoid the risks of early pregnancy. But under pressure from their elders, Bina soon became pregnant. She suffered multiple health issues, and her baby died shortly after birth. 
Within months, Bina was pregnant again, and again she faced numerous health problems. The second baby, a daughter, was also unhealthy at birth. 
Realizing the importance of delaying another pregnancy, Bina and her husband began using contraceptives. But their daughter continues to be weak and malnourished.
Ending child marriage 
UNFPA is working with partners in India to end child marriage, with efforts ranging from awarenessraising to health advocacy to girls' empowerment. One programme, called Addressing Adolescent Fertility, raises awareness of the harms of child marriage through walks, rallies, meetings and home visits in Madhya Pradesh. 
Seventeen-year-old Mallabi* heard about the programme and attended some of its meetings. She told the organizers that her parents were planning to marry her off to a boy in her village. The project team reached out to her parents and the boy's family. After discussing the adverse consequences of child marriage, as well as the legal risks, both families agreed to stop the marriage. 
Mallabi was relived. "I will now focus on my studies and try to get a good job," she said. 
Successful efforts like Mallabi's are giving other girls hope – both for themselves and for future generations. 
"Hopefully, customs like attasatta and child marriage will be totally gone by the time my daughter grows up," Komal said, "and she gets to complete her education and marry only when she wants to." 
*Names changed to protect privacy