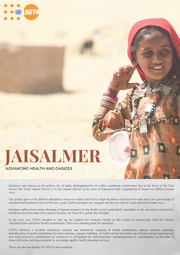 Jaisalmer, also known as the golden city of India, distinguished by its yellow sandstone architecture lies in the heart of the Thar Desert (the Great Indian Desert). It is the largest district in the state of Rajasthan with a population of about 0.6 million (Census 2011).
The golden glow of the district diminishes when we realise that it has a high incidence of home deliveries and a low percentage of antenatal and postnatal care (NFHS 2015-2016). Child marriages are rampant and the sex ratio is highly skewed (Census 2011). Jaisalmer suffers from acute shortage of human resource in the health sector particularly specialists at the secondary and tertiary healthcare level because of its remote location far from the capital city of Jaipur.
In the year 2013 UNFPA decided to take up the cudgels for women's health in this region in partnership with the District Administration and State Health Department. This was a turning point for Jaisalmer.
Full review