26th September 2017, Jawahar Kala Kendra, Rajasthan - Gender Based discrimination and Violence against women emanates from gender inequality and patriarchy prevalent in the society. Inspite of various legislations and schemes, the incidences of violence against women, gender based discrimination and deprivation of economic opportunity prevails at households and community level. Violence and various forms of discrimination against women and girls is not a problem that can be solved by the judicial system alone.  It is important to adopt a systematic, comprehensive, coordinated, multi-sectoral and sustained approach towards holistic development and empowerment of girls & women at various levels of the society. 
In this context, in order to have a sustained mechanism for addressing and preventing violence against girls and women, one of the main strategies is to strengthen the community level mechanisms. In order to strengthen the community partnership, "CHIRALI: Friends Forever" - a scheme to constitute Community Action Groups has been launched by Smt.Anita Bhadel, Women and Child Development Department Minister. The scheme will be implemented by the Directorate of Women Empowerment. in selected 7 district of Rajasthan (Banswara, Bhilwara, Jalore, Jhalawar, Nagaur, Pratapgarh and Bundi) covering 2071 Gram Panchayats, with technical support of UNFPA.
The program is being initiated with the objective to create an enabling environment that would support girls and women to move freely and make use of choices, spaces and opportunities for their overall well being. The Community Action Group will act as a pro active pressure group reaching out to the communities on issues related to violence and gender based discrimination against girls and women.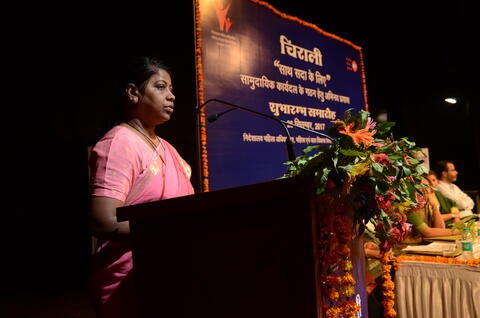 While launching the scheme at Jawahar Kala Kendra on 26th September 2017 in presence of Senior officials ,  District officials , UN agencies  , International organizations , Civil Society representatives , Community Members and Adolescent girls , Smt.Anita Bhadel said ,"Change in the mindset happens when the community members are sensitized and they collectively address the issue of Gender based discrimination and violence. Chirali programme envisages the formulation of community action group comprising of Sathin, Anganwadi worker , PRI member , teacher , civil society member and adolescent girl  who would regularly meet and discuss issues and take action at the community level and  take a stand against the Gender based discrimination and violence."
Smt. Roli Singh, Principal Secretary, Women and Child Development Department welcomed all the officials in the launch of CHIRALI initiative and shared about the different programmes implemented by Government to address the discrimination & violence against girls & women. Shri  Sunil Thomas Jacob, State Programme Coordinator, UNFPA shared that at the global level, as part of the Sustainable Development Goals  2017, all countries have committed to end the Gender Based Violence. Success of this initiative depends on the partnership between the Government departments, UN agencies, International and National NGOs,Civil Societies, PRI institutions and the Community.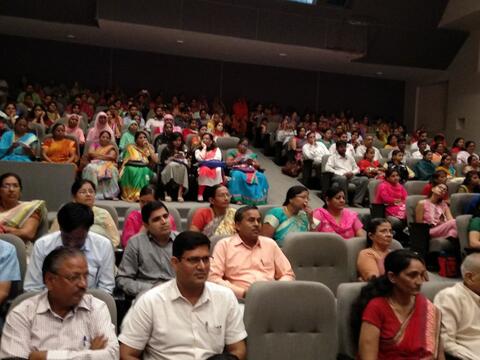 Smt. Shuchi Sharma, Director, ICDS, Smt. Suman Sharma, Chairperson, State Women's Commission & Smt. Richa Khoda, Commissioner, Directorate of Women Empowerment also expressed their support to the initiative. The programme will be implemented with the technical support of United Nations Population Fund (UNFPA) and at the grass root level partnerships will be facilitated through different stakeholders and members of Community and Civil Society