INTERNATIONAL WOMEN'S DAY, 2022
In India:
1 out of 7 girls drop out of secondary school
1 out of 4 girls does not use menstrual hygiene products
And there is only 14.9% female representation in the National Government
While significant inroads have been made towards health and education in the country, much more needs to be done.
Let us use International Women's Day and beyond as a springboard for action as we aspire to a new age beyond COVID-19, one where women's autonomy and empowerment is grounded in genuine gender equality and human rights, truly leaving no one behind. 
These are stories of Binati, Rina and Priyanka…three extraordinary women who have demonstrated unwavering grit and courage by mobilising themselves to serve their community, addressing regressive social norms, and realising their potential through education.
There is no force more powerful than a woman determined to rise
"I am the first post graduate student in my family and in my entire village", said twenty-two-year-old Binati whose eyes light up as she proudly makes this statement.  
She is a resident of Pinda village in the Rayagada District in Odisha. Agriculture is the mainstay for the families here, and the financial resources are meagre. 
In spite of limited means, Binati's father, a strong advocate for education, encouraged the academic aspirations of his children. 
Inspired and motivated by her father, Binati completed her graduation, and also went on to pursue a postgraduate degree in political science from the Kalinga Institute of Social Sciences (KISS).
It was there that she came to know about Mission UDAY, an intervention by UNFPA India and the Rural Electrification Corporation (REC). The programme seeks to position youth at the centre of development initiatives, by creating change agents in the community through capacity building and mentoring support. Indigenous youth are also trained on leadership, active citizenship and life skills. 
"I had a steep learning curve…I gained an understanding about Government schemes, e- governance and honed my communication and public speaking skills. Moreover, my training helped me in identifying critical issues such as child marriage, school drop-out amongst girls, and female illiteracy… practices that were holding the women in my community back", said Binati.
Climbing the steps to leadership
The training she received through Mission UDAY became the building blocks of her journey to leadership. 
Binati motivated herself to organize community awareness programs under the project which enabled her to establish a direct connection with people, build a rapport with the community, and engage with Panchayati Raj Institutions (PRIs). 
Her work and dedication were recognised.
"I have been nominated to contest in the elections as a Sarpanch (Head of Panchayat or Village Council) in the upcoming Panchayat Elections. My journey to serve has only just begun", said Binati proudly.
"I am thankful to Mission Uday for teaching me these skills, enhancing my knowledge and most importantly helping me envision and shape my career as a community leader", said an appreciative Binati.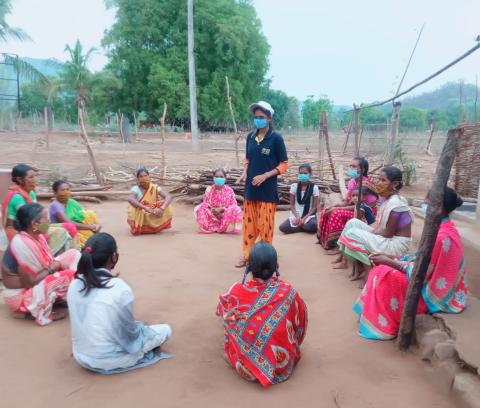 Questioning negative social norms is a catalyst for vision
"Girls and young women hide themselves in dark corners of their houses when they have their menstrual periods… it can even go to the extent that no one is allowed to touch them, and no man can see them. Sometimes, they are not even allowed to sit and dine with other family members or move around freely," said twenty-two-year-old Rina Adkatia, a young indigenous activist from Odisha.
Rina articulates a common challenge faced by adolescent girls and young women in her village…and beyond. The stigma associated with menstruation prevents them from participating fully in their communities and schools, with many girls even dropping out at the onset of their period.
Although data on the causal links between the onset of menstruation and school dropouts is limited, only 37% women and girls in rural Odisha are qualified to a level higher than primary. Many girls drop out of the education system around puberty. The literacy rate for indigenous women and girls in Odisha is particularly low, at 41%. In comparison, the literacy rate for all women in Odisha is 64%, and the literacy rate nationally is 65%. 
UNFPA in partnership with the Kalinga Institute of Social Sciences (KISS), and the REC Foundation, has been working with young people to address harmful social norms in their communities under Mission UDAY.
Rina enrolled in the residential training of this programme where she was educated on sexual and reproductive health and rights including menstrual health and hygiene management.  
Upon returning to her village, she realised how these deep-seated taboos around menstruation were responsible for reproductive health issues among women and girls, including severe infections due to lack of proper hygiene practices.
"This resonated with me… these women and girls were kept in a closed room for almost 10 days during their period, just as I had been. I discussed this issue repeatedly with them but hardly anyone took me seriously. The standard response I received was that this is an age-old practice. It was then that I took a decision to work strategically and address the root of this negative norm," said a determined Rina.
She engaged with older women who largely dictated the rules in her community, and subsequently created awareness among her peers and supported them in raising their voices against the practices of isolation and untouchability during their period. 
But this was not enough…she went a step further.
She developed educational and pictorial communication materials for creating intelligible, easy-to-understand messaging. Enlisting the help of community health workers and women's self-help groups she created safe spaces for girls and women to voice their sexual and reproductive health concerns and seek guidance and support.
The training she received is slowly changing not just the mindsets of the people in her community, but also their practices. Observations from the field indicate positive changes–the practice of isolating girls and young women during their menstrual cycle has reduced; girls are moving away from using cloth at the time of menstruation to disposable sanitary napkins; there is increased discussion on topics of Sexual and Reproductive Health and Rights, and Menstrual Hygiene Managament with participation in larger numbers.
Education is the foundation of India's gender equal future
"The meetings I attended at the Adolescent Girls' Club helped me in determining my path to education and in shaping my career. I am now working and standing on my own two feet."
Nineteen-year-old Priyanka belongs to a poor farmer family from Dekwa village in the Sawai Madhopur district of Rajasthan where 85.56% of the population belong to the Scheduled Tribe (ST) community. 
In 2016, Priyanka was abruptly pulled out of middle school to take over household chores and responsibilities as both her parents had to work as farm labourers to be able to meet their basic needs. 
"My dreams were shattered and I remained confined to the house", remarked a desolate Priyanka.
However, she remained resolute in wanting to pursue her education, and refused to give up.
She came to know about the Adolescent Girls' Club, a unique intervention under UNFPA's Integrated Development Programme which aims at developing Girl-Friendly Gram Panchayats (GFGP) and creating gender-friendly spaces to counter gender discrimination.
The sessions on building social, health and economic assets that she participated in were eye-opening, and fuelled her drive for education and quest for financial independence.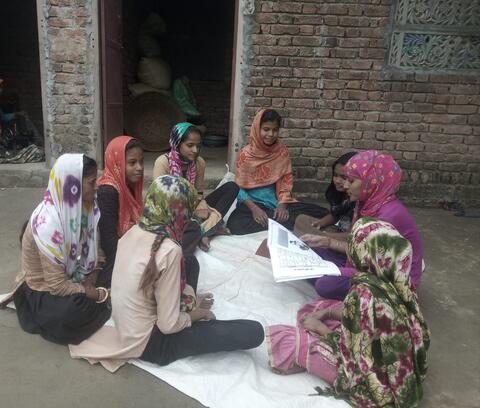 She enlisted the help of a Sathin (Gram Panchayat Level Functionary) from the club to convince her parents to let her continue her education, and soon she was back in school. She studied diligently, and passed her 10th standard exams with flying colours. 
Priyanka's journey did not end here. 
She wanted to work, and joined a government skill development course on retail. 
"The impact of the work being done by UNFPA in partnership with CECOEDECON for the empowerment of women and girls is visible in our school today…the enrollment rate of girls which was in just two digits now stands at 360! Moreover, 29 girls have also been linked with skill development courses, " said Kaluram Bairwa, School Principal, Dekwa.
Today, Priyanka works in a big store in the city of Jaipur, the capital of Rajasthan. She is financially independent, is supporting her family, and is continuing her higher education. 
"My daughter is working in the big city…We are so proud of all her accomplishments, '' said a proud Kailchand Meena, Priyanka's father.
Priyanka has become a role model for many young women in her village who are now pursuing skill development courses and building their career trajectories.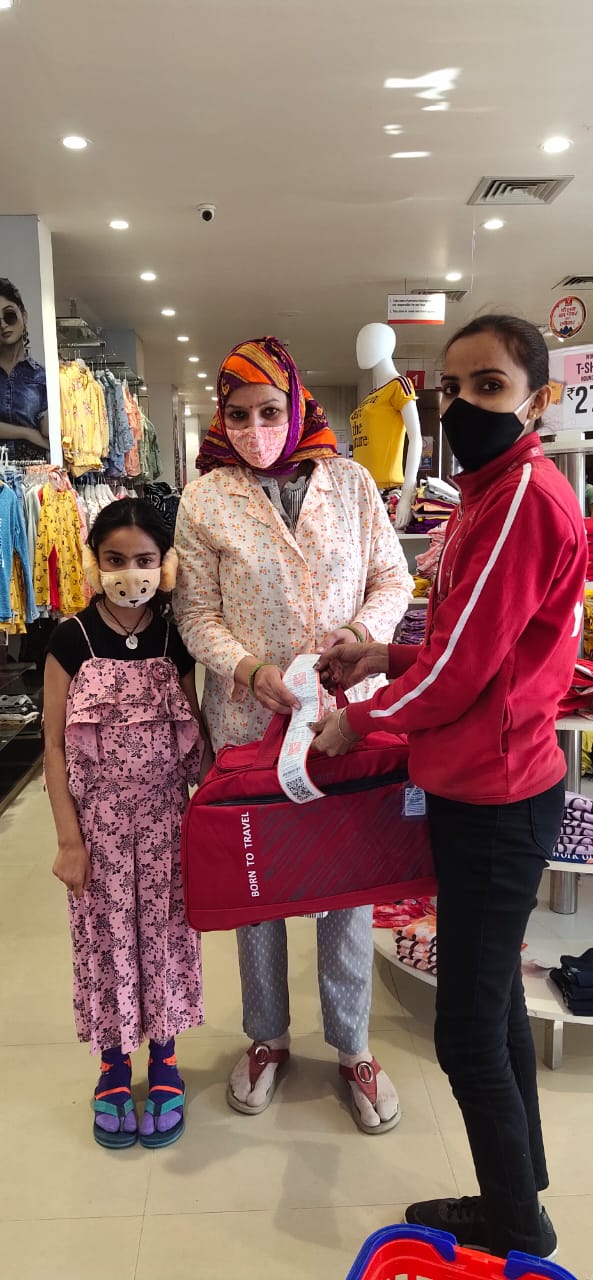 ---
In seeking to Build Forward Better, gender equality and the rights and choices of women and girls must be prioritised - to get back on track in reducing maternal deaths, addressing unmet need for family planning, and eliminating gender-based violence and harmful practices.