17 year old Shimpi Paswan lives in Mahatma Phule Nagar, a slum community of Kalwa in Thane city, an urban agglomeration of Mumbai.  She was born in village Gagha in Gorakhpur district in Uttar Pradesh and came to live in Mumbai when she was just 8 years old. Shimpi's mother is a homemaker and her father works in a little shop that prints banners. She is currently pursuing her 2nd year of Bachelors in Accounting and Finance from J K College in Navi Mumbai and dreams to be a banker someday. 
Shimpi got associated with the Society for Nutrition Education and Health Action (SNEHA) in 2017, as part of a UNFPA and CIDA supported program on Building health, social and economic assets of adolescent girls. As a part of the program, Shimpi regularly participated in sessions on issues critical to adolescents and was linked to a vocational training course in computers where she got an opportunity to complete a certificate course in MS-CIT. Here, she scored exceptionally well. Encouraged by her success, she joined professional courses in Tally and Coral Draw. 
From the very beginning, Shimpi showed exceptional leadership qualities, which led her to being selected as a change agent as part of the program. This new responsibility exposed her to a multitude of activities organized by SNEHA - conduction of a safety audit, workshop on developing a scientific temper, workshop on legal literacy and a workshop to rewrite popular Bollywood songs to ensure they do not promote gender stereotypes. She volunteered to disseminate information and create awareness on issues related to sexual harassment in public places, safe and unsafe touch, menstrual hygiene and myths associated with menstruation, etc. amongst her peers in the community and at her college. She has also taken a lead role in organizing various community campaigns on the International Women's Day and International Youth Day along with the SNEHA team.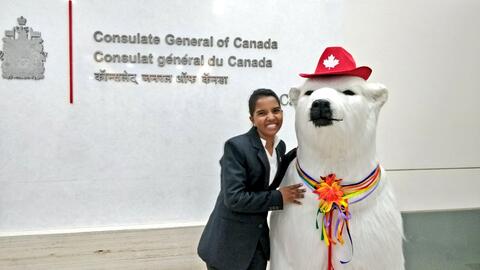 Because of her outgoing nature and commitment to the issue of gender equality and her efforts on addressing the issue of sexual harassment in public places, Shimpi was selected by the Government of Canada to act as the Consul General of the Canadian Consulate in Mumbai for a day on the International Day of the Girl Child, 11th October 2018. 
Narrating her experience, Shimpi said, "The entire experience was overwhelming and beyond my imagination. I was greeted at the Canadian Consulate by all their staff members, given a separate Cabin and even gifted a visiting Card. I addressed all the staff members and briefed them on my role as a change agent. I had a series of meetings with dignitaries from the TATA group, had a press meet at the Mumbai Press Club and attended an event organized by UNFPA and SNEHA on occasion of the Girl Child Day'. She added, "My participation in this event and the memories will last me a lifetime. I received a standing ovation and was greeted as the Guest of Honor. I have always been on the other side welcoming dignitaries as a part of all of UNFPA and SNEHA events, however, it was a totally different affair this time. What a wonderful feeling it was!!"
However, she didn't forget to mention one unforgettable lesson that she learnt during the event was the importance of time management and punctuality. She has also realized that human beings need to be respected irrespective of their position or stature and community mobilization for empowerment is very critical. She said "What struck me most importantly, was that there are no gender differences in roles, especially when I saw several women at senior positions at the Consulate". She adds that the entire experience has given a new meaning to her life and she would continue to help her community in every way possible.
Shimpi's success has reiterated UNFPAs belief that investing in adolescents is an effective way to drive social and economic progress and would go a long way in empowering them.