Adolescent girls from our project on Empowering adolescent girls with information and skills  being implemented by SNEHA, found a unique way to observe the International Day of the Girl Child.
Following a safety audit of their community done on 16th September 2017, the girls mapped areas that are safe and areas not safe (where they don't feel safe because either there are no lights, because they are isolated or because they are teased by groups of boys who get together at these spaces) for them and other girls their age.  On 11th October, they decided to meet the Local Police Inspector from their area with this mapping and discussed issues that troubled them.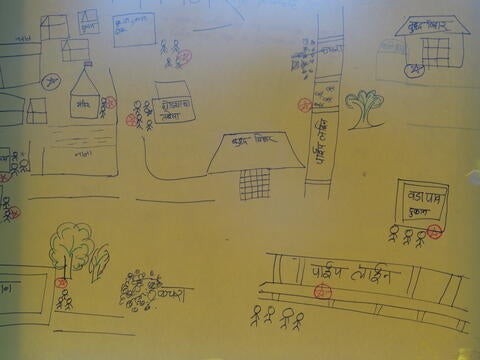 21 girls wrote out a Nivedan (petition) based on the safety audit and invited Mr Bagde (Police Inspector) and presented the petition to him along with the mapping. As part of the event, they performed a play titled Ched Chad Kyon (Why the harassment) and interacted with the PI informing him of their concerns and fears. They also had a series of questions on what they need to do in case of being teased or harassed in their community. The interaction lasted for about an hour and a half.  Police Inspector assured them that in case of any issue they should immediately report the incident to the Police station where immediate action would be taken. The PI also suggested that 15  girls from amongst the girls present, would be trained by them as Police Mitras (friends of the police) and would assist in keeping vigilance of when and where incidents of eve teasing/ harassment happen in the community.
The girls were overwhelmed with the response of the police and are keen to be trained as police mitras and do their bit to put an end to eve teasing in their community.