Geetanjali Marndi, a Class 10th tribal girl from Kapilas Girls High School, Dhenkanal, made Odisha proud when she was invited to be a part of the 'Niine Movement's Menstrual Awareness Conclave' held at ITC Maurya, New Delhi on 28th May 2018.
She was amongst the nine 'PADHEROES' selected from across the country for outstanding work in addressing taboos and cultural practices linked to menstruation. Superstar Akshay Kumar, who was the Chief Guest, handed over the memento and cheque to all the PADHEROES.  
Geetanjali also participated in a panel discussion on 'Keeping girls in School: Education and Menstruation Challenges'. The other panellists were Dr. Jennifer Butler, Deputy Regional Director UNFPA Asia Pacific and Officer in Charge UNFPA India and Bhutan; Dr Bindu Rana, CEO and Founder of Millennium Education Management; and Lata Vaidyanathan, Director, TERI Prakriti School. The interesting discussion was moderated by Shivani Wazir Pasrich, Regional Coordinator, India of the Royal Commonwealth Society.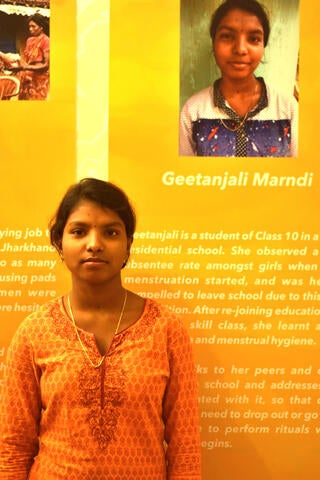 The panellists and the large audience at the Conclave were all praises for Geetanjali, as she shared her story with passion and confidence. An inspiring change-maker at 15, this young adolescent was nominated for the conclave by the ST & SC Development Department, Government of Odisha. She studies in the tribal residential school run by ST & SC Development Department and has set an example for many other girls like her by challenging myths and misconceptions associated with menstruation, and continuing her education in spite of social taboos.
Speaking at the conclave, she shared that Life-skills Education classes in her school helped her understand that menstruation is a normal thing for girls and how misconceptions and unhealthy practices affect self-esteem and dignity of girls. She learnt about the use of sanitary pads and menstrual hygiene management and now feels confident to attend classes even during her period. She said that she felt comfortable to talk openly to her peers and women in her community about menstrual hygiene and make them realise the myths associated with it so that other girls don't drop out or remain absent from school.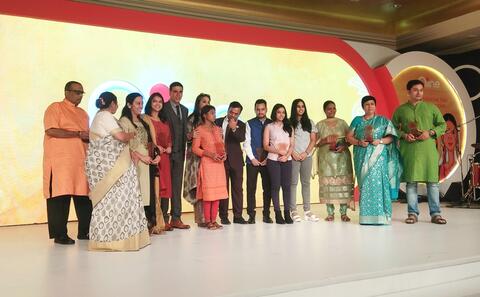 She said that provision of sanitary pads in schools by the government, along with life-skills education, has been changing the way girls manage their menstruation.