Madhya Pradesh, 5th May 2017:  The United Nations Population Fund (UNFPA) and SBI Foundation, today launched Samridhhi in Chattarpur District of Madhya Pradesh. As part of UNFPA's 12-nation Action for Adolescent Girl initiative, the first phase of the project will benefit over 3500 adolescent girls across approximately 150 villages in Bijawar and Badamalhara blocks. In the subsequent phase, Samridhhi will be scaled up to cover several other blocks and districts in the state.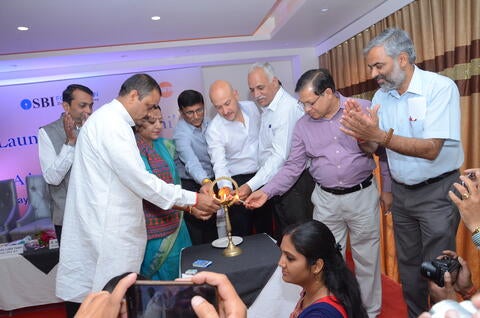 While launching the project at Hotel La Capitol, in Chhatarpur, Mrs. Lalita Yadav, Hon'ble State Minister, WCD said "The strongest motivation to change always come from within. By setting up a robust and effective network of peer educators and grassroots functionaries, Samridhhi Project will ensure that the process of empowerment of adolescent girls come from within these girls of 10-19 years".
The project is targeted at adolescent girls in the age group 10-19, particularly those in the vulnerable sections and is designed to enhance their health, social and economic well-being. It also seeks to help young girls realize their aspirations, make informed and responsible choices in matters related to their health and well-being and enhance their overall value in their communities. In Chattarpur, where it will be implemented by Dharti Sanstha – a well-known NGO.
Speaking about the programme Mr. Diego Palacios, Country Head, UNFPA, said "After successful rollout in Rajasthan and Odisha, bringing this tried-and tested project to MP as Samridhhi is indeed a big step forward, not just for UNFPA in India, but also globally."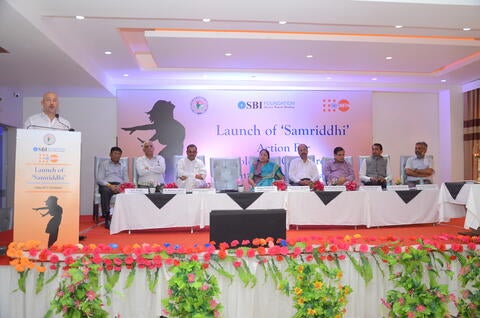 Mr. Palacios, Country Representative UNFPA, added "UNFPA is strongly committed to investing in the rights and well-being of adolescent girls, particularly the most marginalized. Without bringing these girls on to a level-playing field, India cannot effectively tap its huge demographic dividend." UNFPA has deep experience in working on issues linked to reproductive health, and addressing harmful practices like gender-biased sex selection and child marriage. This is expected to further strengthen the implementation of Samridhhi in MP.
Mr R. Narottham Reddy, President, SBI Foundation said, "We are happy to partner with UNFPA and support Dharti Sanstha, and we are confident that the launch of Samridhhi today marks an important turning point in the lives of thousands of adolescent girls."
Dr. Nilesh Deshpande, State Program Coordinator, UNFPA, said: "Through the programme, we want to increase the access of adolescent girls to health information and quality services and facilitate linkages with relevant education opportunities including vocational training".
Mr. Devendra Singh Bhadoria, Secretary, Dharti Sanstha, said, "The project is very relevant in India, particularly this region, as it is home to some of the most marginalised communities. With technical and financial assistance from UNFPA, and support from SBI Foundation, we will put in every effort to ensure that lives of girls of the impoverished and vulnerable sections improve significantly through this programme."
Samridhhi project is designed to integrate a range of effective interventions, such as formation of adolescent clubs, peer educator support, capacity building, curriculum transaction, and collaboration of partners.
Apart from the dignitaries of the dais, the launch event was attended by Hon'ble Mrs. Rekha Yadav, MLA Badamalhara , Hon'ble Mr. Pushpendra Nath Pathak, MLA Bijawar , Dr. Manohar Agnani, Commissioner, Sagar , Mr. Rakesh Bhandari, District Collector, Chhatarpur, Mr. S.P.Singh, General 
You can see the delegates talk about the project here http://bit.ly/2pqdS8d